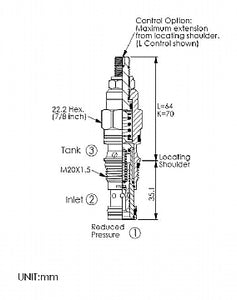 PP11A30WL
Reducing/Relieving Valve
(Replaces Sun PPDB-LWN)
Pressure Reducing/Relieving Valve - Pilot Operated
(Replaces Sun PPDB-LWN)
Part Number: PP11A30WL
Product Description: Pressure Reducing/Relieving Valve - Pilot Operated
Adjustable Range: 150-4500 PSI
Standard Setting: 200 PSI
Rated Flow: 10 GPM
Cavity: T-11A
Replaces Sun PPDB-LWN

Manufacturer:  Winner Hydraulics
Certifications:  IP65, ISO9001, CE, RoHS


RoHS Certified: This product is certified to free of certain hazardous materials including Lead, Mercury, Cadmium, Hexavalent Chromium, pBBs.


California Prop 65 WARNING: Cancer and Reproductive Harm
For more information go to www.P65Warnings.ca.gov

Satisfaction Guarantee:
You may return your item(s) up to 30 days after the purchase date for any reason as long as the item(s) is unused and in its original packaging in sellable condition. Buyer pays return costs.

Warranty:
Our valves are warrantied to be free from defects in material, workmanship, and design for a period of three years after manufacture.  We ship hundreds of these every week and have only received 10 valves back in 10 years and all were found to be clogged with dirt and contaminants.  That is not covered by this warranty so please change your filters routinely. Contact us for copy of complete warranty statement.

About Us:
We have been in business for over 30 years.  We specialize in custom built hydraulic cylinders/actuators and valves and a variety of other hydraulic components and services.  And we have been involved in lots of special projects around the world (and space) including high profile ones like bringing an end to the BP oil disaster in the Gulf.  If you have any questions, please contact us.

Thank you for shopping with us!!!